Merlot Riserva
Colli Euganei DOC Merlot Riserva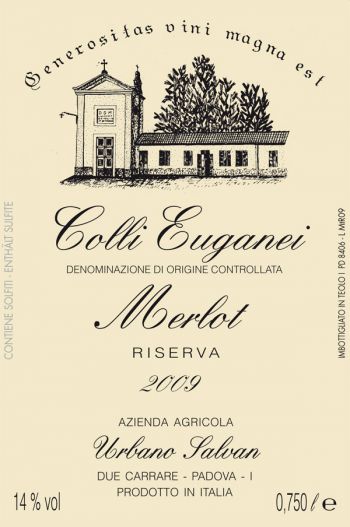 Colli Euganei DOC Merlot Riserva
Riserva means aged but also more important and structured wine, to drink more slowly enjoying every sip.
This Merlot-wine comes from vineyards where the production is kept low, so that the grapes are much richer in avour and therefore in quality.It matures for at least one year in oak barrels.
The perfume reminds to blackberry, plum, liquorice and tobacco. The taste is ripe, full and rounded.
It is always an amazing experience to taste it with a "vertical" (different years of the same wine) and taste how every year it becomes rounder and more complex, as long as time passes.
It wears our historical label with Pigozzo Church that is close to our winery. "Generositas vini magna est" – in latin language – means "Wine generosity is big".

---
How to drink it
about 18° C (64° F)
big glass
take your time to leave the wine in the glass, to discover the fascinating changing of profumes!
ideal drinking after about 7-8 years from the vintage, but it can still continue evolving with interesting bouquet for the following years
---
Food pairing
Long-aged parmesan cheese (Parmigiano Reggiano DOP or Grana Padano DOP), red meat, game dishes.
---
Tasting_notes_Merlot_Riserva_EN (1 MB)
---
Winemaker notes
| | |
| --- | --- |
| Area of production | DOC Colli Euganei |
| Grapes | Merlot 100% |
| Alcohol content | 14° |
| Vineyard | 25 years old, 6000 vines/hectar |
| Harvest, Vinification and Aging | Harvest at late september, all by hand, choosing best grapes. The red vinification was made with a perlonged maceration, about two weeks, and aging in oak (little and big barrels). |
Our wines
Do you want to discover how wine is made?
Do you want to learn how to taste or how wine and food pairing works?
Come to visit us, un unforgettable experience is waiting for you
Do you already know our wines and want to know where you can find them?
Call us
or write to
info@salvan.it