Cabernet Franc
Colli Euganei DOC Cabernet Franc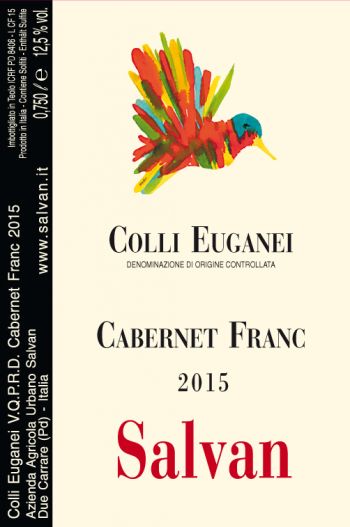 Colli Euganei DOC Cabernet Franc
As is tipical of the Cabernet Franc grapes, this wine has a herbaceous aroma that reminds us of fresh grass and green peppers.
It is quite light-bodied and easy-drinking.
The acidity content is more than Merlot wine's: this makes it a perfect companion for grilled pork or just some salami, for a cheerful easy moment with friends.
---
How to drink it
16-18° C (60-64° F)
middle size glass
drink it young, not later than 3 years from the harvest
---
Food pairing
Ideal pairing with salami, sausages or spareribs , because it helps you to "clean" the mouth from the fat sensation, thanks to the acidity content and the herbaceous aroma. It is a perfect companion also for "spuncetti alla veneta": that is the traditional venetian food for "aperitivo": a slice of salami, a boiled egg, an anchovy with an olive, and so on!

---
Tasting_notes_Cabernet_Franc_EN (1 MB)
---
Winemaker notes
| | |
| --- | --- |
| Area of production | Colli Euganei |
| Grapes | Cabernet Franc (Carménère) 100% |
| Alcohol content | 12,5 ° |
| Vineyard | 22 years old |
| Harvest, Vinification and Aging | The grapes are all harvested by hands, the maceration lasts about one weeks, aging is 7-8 months in steel tanks and then in the bottles. |
Our wines
Do you want to discover how wine is made?
Do you want to learn how to taste or how wine and food pairing works?
Come to visit us, un unforgettable experience is waiting for you
Do you already know our wines and want to know where you can find them?
Call us
or write to
info@salvan.it